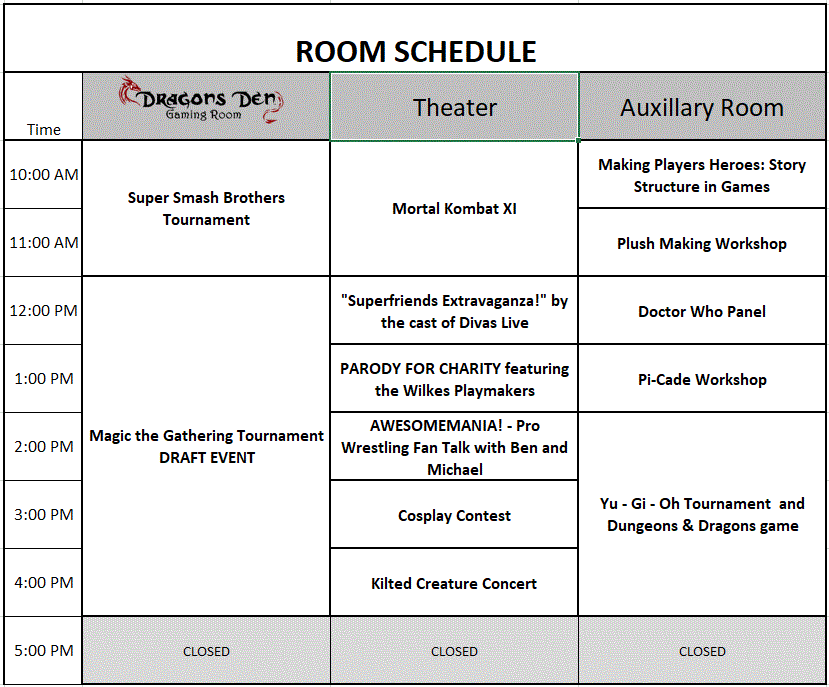 10:00 AM Dragon's Den Gaming Room
Super Smash Brothers Tournament
All ages. Do you have what it takes to be the best? Find out in this head to head competition. Come early to sign up to play and bring your game face!
10:00 AM Main Theater
Mortal Kombat XI Tournament
Ages 13 and up. The Benton Hall theater becomes a battle arena as players compete for gory glory. Sign up early as well expect slots to fill up quickly.
10:00 AM Auxiliary Room
Making Players Heroes: Story Structure in Games
In this discussion we will explore the history of story structure as it has existed within legends, lores, folktales, and mythologies throughout societies. We will be focusing on the monomyth as discovered by Joseph Campbell. After establishing the history of these story telling methodologies we will demonstrate and discuss how this seemingly simple approach to story structure is still heavily used in the modern motion picture industry and how this structure impacts screen writing. Finally, we will take this story structure into the realm of video games which as a newer media for interacting with each other is often times considered to be unique and different from how we have approached story telling in the past. As we look at modern video games, in which the player is the central character of the game, we will discover how the games that get people talking and hold their interest happen to follow the exact same monomyth structure that has defined the greatest of our stories for thousands of years. Whether this utilization is accidental or intentional will be left as an open question.
11:00 AM Auxiliary Room
Happy Plushie Fun Time: Plush Making Workshop
COME ALL! Learn the basics of sewing your VERY own plushie! Learn a few stitches to begin your new life of sewing! For $5 get you very own plushie making kit (being our signature pancake or a possible mystery kit!) and we will make sure you have all the needed supplies for your new life venture!
12:00 PM Dragon's Den Gaming Room
Dragon's Den will be running a special "War of the Spark" draft format event. Entrance fee is $15 +tax. Booster packs and prizes!!
12:00 PM Main Theater
"Superfriends Extravaganza!" by Divas Live
Join the cast of Divas Live as they pay tribute to our favorite characters in this musical and dance performance. Be prepared to enter the world of imagination through this fun filled and interactive performance by female impersonators across North Carolina.
12:00 PM Auxiliary Room
Doctor Who
Join Ben Taylor and Denis Lachapelle as they discuss the best and worst of the past 50+ years of Doctor Who, speculate about the new season, and share what makes the show special to them.
1:00 PM Main Theater
"Parody for Charity" featuring the Wilkes Playmakers
The actors and actresses of Wilkes Playmakers (and possibly some special guests) will perform readings from the scripts of some of your favorite movies and television shows. Audience participation is ENCOURAGED!
1:00 PM Auxiliary Room
Pi-Cade Workshop
Let Will show you how to build your own home arcade machine with a raspberry Pi!
2:00 PM Main Theater
AWESOMEMANIA! with Ben and Michael
AwesomeMania has come to Wilkes Comic-Con!!
AwesomeMania is your place for all of your Pro Wrestling Fan Talk.
Join Ben Taylor and Michael Lindenbaum as we have a fun group discussion about WWE, AEW, Impact, ROH, New Japan, and so much more in the world of Pro Wrestling!
2:00 PM Auxiliary Room
Yu-Gi-Oh Tournament
Officially Sanctioned Yu-Gi-Oh tournament for prizes!
Dungeons & Dragons
Join the fantasy story of sorcery and adventure as you embark on a special quest created just for the Wilkes Comic Con. All levels of adventurers are welcome! Characters, dice, and pencils are provided – you just need to bring your imagination!
3:00 PM Main Theater
Cosplay Contest
Signup throughout the day at the registration desk. Categories for most original, best 12 and under, and best over 12.
4:00 PM Main Theater
Kilted Creature Live on Stage
The "Kilted Creature" pays tribute to the "Creature from the Black Lagoon" Universal Studios® Classic Horror Movie Trilogy in this one-of-a-kind concert experience.