List of Artists
The following artists and vendors are scheduled to appear
(table locations are subject to change)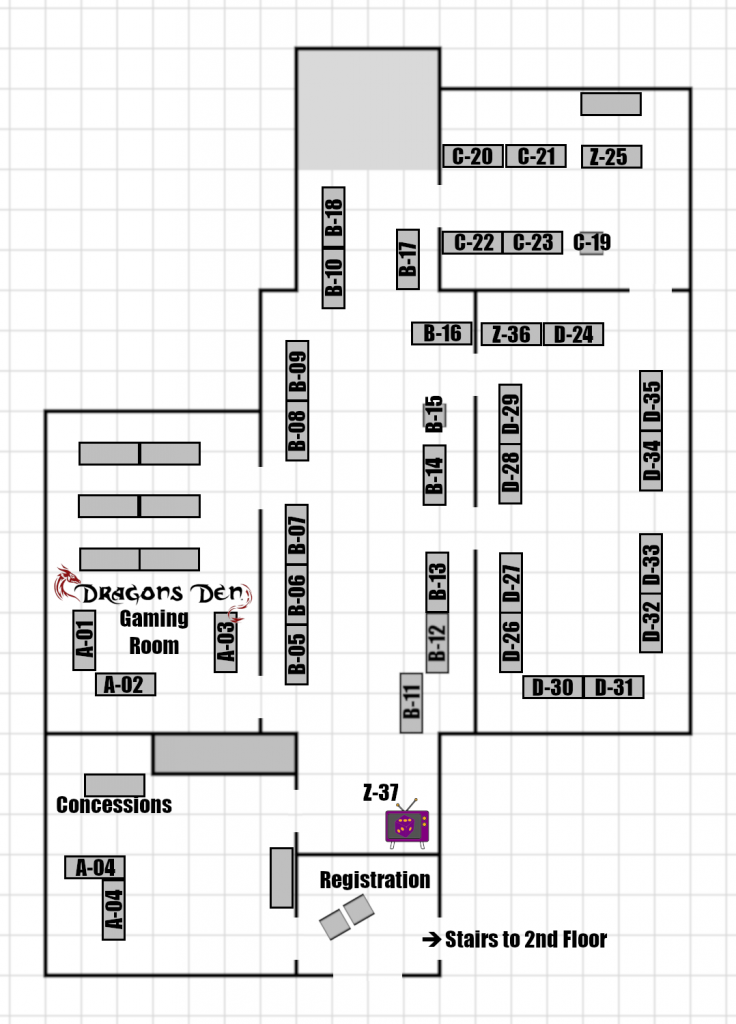 ---
321_tv
Z-37
facebook.com/3topics2guys1podcast
321_tv is at Wilkes Comic Con to broadcast the goings on of the show to a worldwide audience via their Twitch channel, including creator interviews, discussion of panels and tournaments, and even panels of their own. 321_tv is a Twitch channel lead by Jordan and Ben that hosts a variety of programming which includes live steaming of playing games with friends, 100% completion runs, talk shows, and presentations at various conventions. 321 began when Jordan and Ben met at a convention in the DC region, that rapidly grew, eventually joining with Michael of TXHT and X75 Productions to bring more variety of content to the family.
---
Artelies
CANCELLED
Acrylic paintings inspired by owls, big eyes and bright colors!
---
Bear Butt Comics
D-28
Brian is a small press comic book artist and writer for his original action comedy, Intermezzo. He also creates Cartoon Cosplays, original art of comic and cartoon characters cosplaying other characters.
---
Blaze Belushi
D-26
http://www.reverbnation.com/blazebelushi
"You thought I was a geek if my memory serves. If so, my flow, is 'Revenge of the Nerds'." – Blaze Belushi
Cartoonist and Rapper.
Blaze Belushi has been making waves in the local scene for a few years now. He's had guest appearances on various songs, including on album releases from Mightier Than The Sword Records. He was featured on "The Other Side remix" from Ty Bru's powerhouse debut "On the Brink", then returned for the "Posse Cut" and background vocals on "TKO" for Ty Bru's 3rd album "Triple Bypass- In The Ambulance." Also, he appeared on Matt Irie's "Don't Wanna Go Home," as well as placing 4 features on "Under The Tree" the Mightier Than The Sword Christmas compilation. In addition, Blaze has worked with artists ranging from Ed E Ruger, Celinski the Mayor, Pete Wurthy, Big Bis, Tenacious, Matt Irie, among others.
---
Budd Root

B-17
One of the premiere contemporary "good girl" artists, with an art style similar to Art Adams.
Budd Root was born in Heidelberg, Germany in 1958 on an Army base. Comics were already a major influence for him during his young life. Budd is the creator of the series 'Cavewoman' that was published first by Basement Comics and then later by Caliber Comics. Budd Root created two different series of this comic – 'Cavewoman: Odyssey' followed the events of the earlier 'Cavewoman: Rain' series.
Nominated for the Ignatz Award in 1999.
---
Byron Wilkins
B-13
Byron Wilkins is a professional illustrator having created work for NASCAR and NBC Sports. He also is the creator of the webcomic "1977 the Comic" based on Byron's life as a bass player in rock bands back in 1977.
---
CaitCat Art
B-09
www.instagram.com/johns_hobbies
http://www.instagram.com/CaitCat_art
Artists specializing in digital art prints, handmade sketchbooks, stickers, hand-painted miniatures, artwork commissions.
---
Cantabile
Z-36
www.instagram.com/artsycantabile
Cantabile features anime-styled watercolor illustrations of comic book, cartoon, anime, and original characters.
My name is Stephanie and I'm a preschool teacher by day, freelance artist by night! I enjoy making colorful illustrations using watercolor and Copic markers. Please feel free to come by and say hi, as I love meeting everyone and talking about art and all things geeky!
---
Cortney Cameron

B-06
Cortney Cameron is an author, scientist, and the main writer for Catians: Resurrection, an indie feline (and human!) modern fantasy adventure comic series. Cortney grew up in Wilkes County and currently works as a hydrogeologist researching water resources in Florida. She is owned by two cats and proudly feels she ascended to the next level of cat lady by making a cat comic.
---
Dragon's Den
A-01
https://www.boonegamers.com/dragon-s-den
We are a local Gaming/Comic store up in Boone, NC. We opened in November 2018. We are carrying on the legacy of the old Dragons Den that existed before and are not officially associated with them. We sell Wargaming minis, Magic Cards, Anime Cards, RPG materials to include dice, and comics/reading materials.
---

Duae Designs
D-31
Handmade sewn bags, catnip toys, fleece cat hats, and potentially crochet items such as small dolls, plush toys, and art prints.
---
Happy Plushie Fun Time
B-05
www.facebook.com/happyplushiefuntime
We make plushies as well as plush making sewing kits. We will have some 3d printed items, dice and will have some mochi and ramune. Our primary goal is to spread the idea that people can learn to sew and make their own costumes, stuffed animals, and whatever else they want to make.
---

Hero Clash Collectibles
D-32
https://www.facebook.com/pg/heroclashcollectibles
Comic books, Marvel Legends, McFarlane Figures, Magic cards, Sports Cards, Hotwheels, and so much more! New Release comic books come in every Wednesday and subscription holder can save up to 20%. Call to start your own comic book subscription today, Free!
Located in Historic Downtown North Wilkesboro, NC – Hero Clash Collectibles is a store that offers a wide variety of collectible comic books, comic figures, sports cards, sports figures, horror/sci-fi figures, and more – all at affordable prices!
---

Hillside Horror

B-18
http://www.hillsidehorror.com/
There is an old abandon farm that sits on a hillside in the NC foothills. At a glance, it looks like any ordinary farm in rural NC BUT looks can be deceiving! You see, this farm was built over top of an old cemetery and the dead that once rested in peace are not resting at all anymore! Over the years, families that have occupied this farm have reported many strange things and have never resided there long before moving out. Local Realtor's have tried and tired to sell this farm but the legend is out in the county and it has remained vacant for a long time. Over the years there have been many folks who have come to the site of this hillside farm after dark in search of a thrill, especially around the Halloween season. Many of these folks return with horrifying stories of strange sights and occurrences and some people have even gone missing in the area, never to return! This year, take a ride on our hay wagon deep into the darkness of the NC foothills and get off if you dare at the site the locals call, Hillside Horror! What experiences will you return to share or better yet, will you return to share anything at all??
---

James Maxstadt
C-20
The author of four, (possibly five by show time), fantasy novels, including the adventures of Duke Grandfather and his friends. James's books are clean and suitable for middle-school through adult.
---
Kilted Creature
B-10
www.facebook.com/kiltedcreature
There have been reported sightings of the Bagpipe playing Kilted Creature dating back to the Devonian Age. "KC", along with his brother, "Creature from the Black Lagoon", shared the same pond as tadpoles. The Kilted Creature left the pool at an early age and travelled up north where he ended up to Loch Ness, Scotland, where he also got his first set of bagpipes.
Fast forward to the 21st century and modern technology. On a more recent journey, KC happened into the "Claws and Dragons" Pub in Isle of Man, where he met a beautiful bar wench he calls "The Keeper". They immediately had an animal attraction for each other and haven't left each other since. Now living in the mountains of North Carolina, the Kilted Creature can be seen, along with his cute little keeper, and their love-child "Sgt. Tadpole at Arms", playing his bagpipes well beyond the Black Lagoon.
The "Kilted Creature" pays tribute to the "Creature from the Black Lagoon" Universal Studios® Classic Horror Movie Trilogy.
---
Kinda Cute Creations
D-34
http://etsy.com/shop/kindacutecreations
Kinda Cute Creations is here to brighten your day with art prints, plushies, buttons, and much more! Bring home your own handmade creation from us, made with love, by a fan for the fans!
---
Klaws of Kreation
B-12
www.facebook.com/klawsofkreation
Kev Lyerly, aka Klaws of Kreation, is an artist from Winston Salem NC. For the past twenty years he has self-published his own comics and produced fan art ranging from cards to 11×17 prints.
---
Klingon Assault Group
Z-25
https://www.facebook.com/KlingonAssaultGroup/
The Klingon Assault Group is a not-for-profit fan organization. The IKV Executioner, a chapter of KAG, supports Kwanzaa Family Inn women's shelter. Look for their table of Klingon and Star Trek Alien memorabilia and recruitment information for the Klingon Assault Group.
---
Leahsaurus
B-16
https://www.instagram.com/leahsaurus741/
Leeanna Earp is a locally based illustrator and mixed media artist. She is currently majoring in Studio Art at UNC Pembroke as a sophomore. Her focus is character and fan art in a cartoonishly semi-realistic style.
---
Man Eating Cake Comics
B-11
www.facebook.com/ManEatingCakeComics
Man Eating Cake Comics is the Brainchild of Jay Gobble and Jason Carr…we publish the comics Appomattox…and Blood of the Lotus…hailing from Winston Salem and Greensboro…our styles run from superhero to Manga.
---
Matthew Atchley

A-04
Matthew Atchley is a celebrity artist and actor known for his hand drawn intricately detailed illustrations. His subjects span across all fandoms and different forms of pop culture including characters from popular TV, film, comics, and more.
He has created artwork for several actors from a wide variety of tv series and films. Ever diverse, he also created a series of political cartoons with Actor Sean Astin with Sean writing and Matthew illustrating. He also had the honor of being ranked 4th place in an international poll for Best Portrait Artist by the Spacie Awards. Matthew is also collaborating with Austin St. John, the original Red Power Ranger, for a new line of Power Ranger artwork to be featured on multiple forms of merchandise.
Matthew has also recently returned to his acting roots as well. He has been cast in over 20 productions in the last year alone. He performed on episodes of "The Gifted", The Originals", "The Resident", "Nashville", Ozark", "MacGyver", "A Sister's Secret", "Snapped", "Murder Calls", "What Men Want", "Homicide Hunter", and "Special Election" to name a few. He has many more upcoming projects soon to premiere. His entire artwork portfolio, current appearance schedule, and acting credits can be found at artofmatthewatchley.com
His professional Facebook page can be found at Facebook.com/theartofmatthewatchley
His released acting credits can be found on his IMDb page at https://www.imdb.com/name/nm10113643/
---
Modern Mercurial
D-30
Modern Mercurial is in its third year of business, selling a variety of small trinkets. We'll be selling plushies, vinyl decals, buttons, and more. Our merchandise is rarely the same twice, so don't miss us!
---
Mumswear
D-35
https://www.facebook.com/Mumswear-244407285959464/
Mumswear creates one-of-a-kind unique shirts for unique individuals. We started Mumswear when Jean, (my wife) created a poly dice shirt for our oldest son to wear to Gen-Con in Indianapolis. Since I have been a comic nerd longer then Batman has had a cape and a cowl, we started a small cottage industry. We sell online as well as attending shows and conventions.
---

Nerdy Threads and Things

C-19
https://www.facebook.com/SpitzandSparkz/
Handmade jewelry and crochet items.
---

Red Wolf Studios
D-29
https://theartofkatelynndaniel.weebly.com
I'm a digital artist and graphic designer whose main inspiration is from my favorite video games. I sell a variety of prints, charms, buttons and other items from various video game and anime fandoms! I also have a selection of pride themed jewelry and microfiber cleaning cloths.
---
Robert Jenkins
B-14
http://www.homeofthefluffy.com
Comic strips and watercolors. Creator of the web Comic Strip "Where's Fluffy?" And father of a tiny Fluffy Kitten.
---
Rumble and Roar Wandmakers
C-21
http://www.facebook.com/RumbleandRoar
Handmade wands and movie quality props. Master Wandmakers for over a decade, come see the finest magical products this side of Diagon Alley, (Though we have a shop there too if you don't want to fly in).
---
Tammy's Handcrafted Jewelry
B-12
https://www.facebook.com/TLHTD/
http://tammyscrafts.storenvy.com
Based in Rural Hall, Tammy makes Macramé Wall, and Dream Catcher wall hangings, Jewelry and Loom knit items, and will be featuring perler bead key chains with logos related to Marvel and DC characters.
---
The Dice Hut
B-07
The Dice Hut is a Game supply store. We do as are name says carry dice and that is our main focus but don't let that fool you. We carry all the basic game supplies no matter what type of game we got you covered.
---
Two Tiger Moon Studios
B-08
https://www.facebook.com/pg/twotigermoon/
https://twotigermoon.vpweb.com
Two Tiger Moon Studio is the art of Eric and Wendy Harmon. We travel to different anime and comic conventions throughout the east coast. Digital artists who love World of Warcraft, comics, anime, and almost anything nerdy.
---
WatchWorks Comics
D-27
https://www.facebook.com/watchworks.comics.3/
WatchWorks Comics soars across the galaxy to find the best Comic Art, Variants, and Signed Exclusives for you!
For almost 30 years, I worked in the telecom industry all over the world. For the last 14 of those years I ran my Comic Shop online. Now, I'm living back in my hometown again, married to my best friend, the first girl I ever had a crush on, and… Now… I have opened my first brick and mortar comic store ever! No more telecom, just comics!!
---
Wilkes Community College – Game Development
A-03
http://wcc.wilkescc.edu/milesj/
Information for individuals interesting in furthering their education in any of the following fields:
Computer Programming
Website Development
Network Management
Advertising & Graphic Design
Simulation & Game Development
Digital Media
Jere Miles is the lead instructor of game development at Wilkes Community College, but also teaches classes in the other fields listed above and will be able to provide information as well as answer any potential questions about:
Classes in the programs
Software used in the programs
Admittance to the college
Career opportunities within the programs
---
Wilkes County Public Library
B-15
https://www.arlibrary.org/wilkes
Stop by our table and see what Wilkes Library can offer you! With a photo id and proof of address, you can get a free key to the TARDIS. Okay, it's your key for using the library, but we're like the TARDIS. We're much bigger on the inside and we can take you on a journey through space and time!
---
Wilkes Playmakers
D-24
Recognizing the powerful impact theatrical art has on humanity, Wilkes Playmakers is committed to providing entertainment, promoting cultural awareness, and nurturing inclusion through captivating stage performances, creative educational programs, and meaningful community experiences. Entrusted with caring for one of the area's oldest buildings, Wilkes Playmakers is honored to offer its home, Benton Hall Community Arts Center, as a venue for professional functions, social gatherings, and community events.
---
Will Boyer
C-23
Patreon.com/GospelmanMinistries
Will Boyer (CartoonistWill) is the creator, writer and illustrator of webcomics such as the secular comedy "SuperMilo," the religious edutainment series "Gospelman Adventures" and the humorous Gospelman comic strip, as well as a the co-creator of Empire Comics Lab's comedy "Hip Hop" about a rabbit trying to make it big in Hollywood, co-created and written by Dan Johnson, and the illustrator of a short backup comedy comic, "Li'l Nuetro," written by Dave Noe, for a future graphic novel by inDELLible. He also letters for the publishers on various titles.
---
William Withers II
CANCELLED
https://www.facebook.com/ArtofWilliamWithers/
Original art commissions, sketch cards and cover, prints.
Worked on sketch cards for Upper deck cards on various Marvel properties (Avengers, Guardians of the Galaxy, Ant-man, etc.) Transformers, Vampirella, and Dc comics. Also illustrates for various Indy comic publications.
---
Wilson's Toy Store
C-22
https://www.facebook.com/Wilsons-Toy-Store-264357220582716/
I sell framed canvas prints, jewelry and toys.
I have been selling toys for about 10 years. I enjoy talking to people about old toys and reliving our childhood. I have set up at toy shows in Hickory, Raleigh, and Greensboro. I have done comic cons in Marion and Statesville. I also set up at flea markets all around.